Overview
Time

1:00PM - 4:00PM

Location

Cardinal Ritter College Prep (Map)

Ages

Class of 2023-2026
The Prep Redzone Prospect Tour is a perfect opportunity for high school football players to get exposure in front of college coaches, Prep Redzone scouts, and other media outlets. Testing results will be recorded for colleges across the country to access following the event. In addition to being sent to all colleges who RSVP for our event, testing results from this event will be shared on Zcruit, the nation's leader in recruiting insights and alerts for over 120 Division One football programs nationwide.
With Prep Redzone scouts in attendance and our dedicated social team highlighting top performers, players will be sure to get an unparalleled coverage experience before, during, and after the event on social media and on PrepRedzone.com.
PrepRedzone.com is an approved scouting service in accordance with NCAA bylaws, policies, and procedures. College football coaches from all divisions (Division 1 - NAIA) are permitted to subscribe.
Run of show:
After check-in, athletes will have a professional headshot taken for identification and will have their height/weight recorded. From there, the showcase is broken into three portions: testing, position-specific drills, and 1-on-1 competition. Testing will include the 40-yard dash (hand-timed), pro shuttle (hand-timed), L Drill (hand-timed), and broad jump.
Session Breakdown
Check-in: 12:00 pm-1:00 pm
Testing and Drills: 1:00 pm-4:00 pm
Coverage of the event will be available after the event on PrepRedzone.com.
Event Director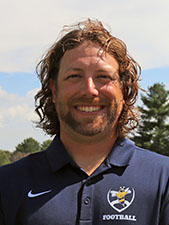 Colin Mcquillan - Event Director
Colin McQuillan is currently the Defensive Run Game Coordinator and Defensive Line Coach at Graceland University. Prior to Graceland, McQuillan was the Defensive Coordinator at Southwestern Oklahoma State University for four seasons. Prior to SWOSU, McQuillan coached for six seasons at Missouri Western State University, over two different stints. In addition to his coaching duties, he served as the Recruiting Coordinator and Social Media Coordinator for Missouri Western Football. McQuillan's college coaching career began as a graduate assistant at Missouri Western, coaching the linebackers and defensive backs. During his undergraduate years, McQuillan was the assistant football and basketball coach at Union Star High School from 2008-10. McQuillan earned his Bachelor's Degree in Physical Education from Missouri Western in 2011 before completing a Master's Degree in Sports and Fitness Management from MWSU in 2016.
Venues
Cardinal Ritter College Prep High School

Ages:

View Address

Cardinal Ritter College Prep High School, 701 N Spring Ave, St. Louis, MO 63108, USA
Frequently Asked Questions